Dovesongs Producer Barri Armitage Has Poetically Adapted Lyrics From Scripture And Set Them To Traditional, Classical, or Original Melodies
Latest Album Releases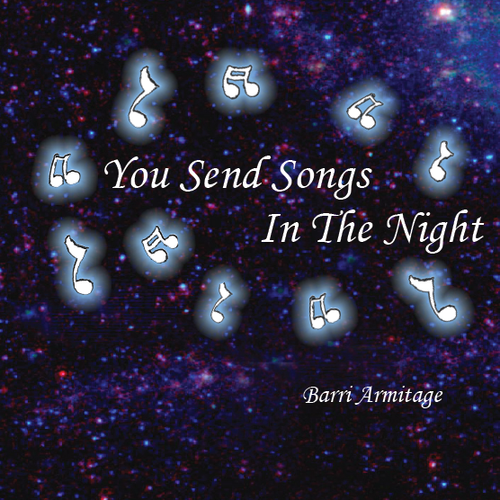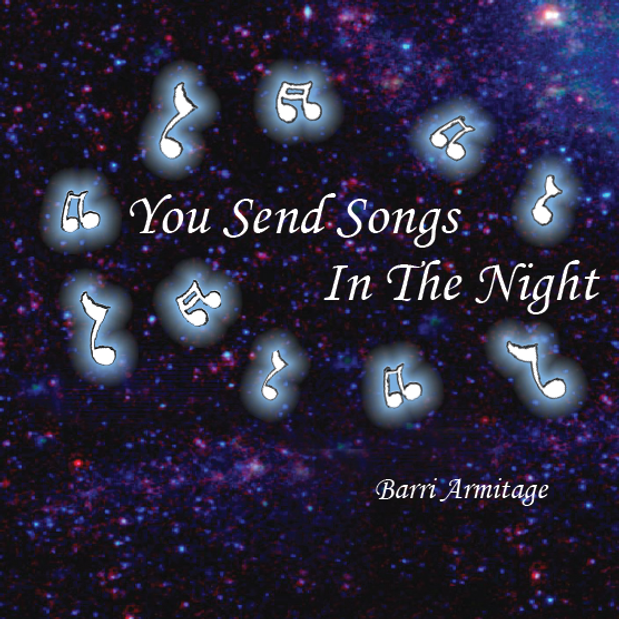 YOU SEND SONGS IN THE NIGHT - Album 18
Released september 2022
These 17 songs give us a glimpse of the light of God's Kingdom. When we lie awake, praying to God, sharing our concerns, and asking for guidance, He sends us songs. They remind us of His help in the past, His presence now, and the great joy ahead. We sing them back to Him, encouraged in a night that will grow darker than has ever been. We watch and wait for the new Day to come when we join Jesus Christ and the angels in a new song!
 
HE CARRIES US GENTLY 2nd Edition
released july 2022
Dovesongs producer Barri Armitage has poetically adapted lyrics from Scripture and set them to traditional, classical, or original melodies. HE CARRIES US GENTLY has 16 songs compiled from Barri's past albums.
These 16 songs feature the comforting voice of David Armitage, Jr. They assure us of God's faithfulness to "carry us" through these turbulent times plus give us hope for His coming Kingdom.
My heartfelt gratitude goes to God, the Great Musician, Who gives us this hope and His help to put His Holy Scriptures into songs. I am also grateful to my son David for sharing his talent and the gifted musicians accompanying him.
2021 Album Releases
Spoken Dovesongs Vol. 3 - Scripture Poems of Our Beloved
Released December 2021
Here is a compilation of the spoken song version of fourteen songs about our beloved Jesus Christ, our future Bridegroom. Several of the songs are adapted from the Song of Songs (also known as the Song of Solomon) in which the woman longs to be with her beloved shepherd, a type of our Shepherd. The album expresses the mutual love of Jesus Christ and His betrothed, the Church. May we focus on that glorious Day when our Beloved raises us to be His Bride and dwell with Him and God, the Father forever.
GOD'S CARE ON MY PATH FROM POETRY TO SONGS
Released October 2021
In this album, I tell you the story of how God, the Source of all life and gifts, led me from writing poetry to poetically adapting Scripture with lyrics set to music, and subsequently to spoken songs with lyrics read to background music. Only in hindsight have I seen His hand in the interventions to make this possible, including marriage to my beloved husband, Dave, whose voice can be heard on the Dovesong albums.
You will learn how God began preparing and training me from my early years. You will also hear samples of the works as I explain why analogies and details are so important in the craft of poetry and song writing.
Look At God, Not Goliath - Album 17
Released October 2021
These 17 songs give God's assurance that we need not
fear the giant troubles around us. In I Samuel 17 we
learn how David was given victory because he put his
trust in God. When Goliath challenged Israel's army,
David rejected Saul's offer of armor and a sword, but
instead, put five stones in his shepherd's bag. When
Goliath mocked, David told him that although Goliath
comes with sword and spear, he comes in the name
of the Lord of hosts, so the battle is the Lord's. David
shot a stone and hit Goliath in his forehead. When he
fell to the earth, David ran and used the giant's own
sword to kill him. God does the impossible for those
with faith in Him.
WHERE I KEEP MY TREASURE - Album 16
Released June 2021
These 14 songs of the heart encourage us through God's Word to focus on heavenly treasures and yield to God, the Master Potter, Who changes our hearts to be like His. In the Millennium, when the exiled Israelites return to their land, God will give them a willing heart. Then all can come to His Fountain for their thirst to be quenched. 
Check out these special releases!
DaveSongs
Dovesongs Sung By Dave Armitage
DaveSongs features the voice of Dave Armitage who, with a voice as one listener described sounding "like burnished copper," sings many of the beloved Dovesongs written by Barri Armitage over the years. To review the 5-Volume set of albums with 67 songs, click the button.
He Carries Us Gently
Dovesongs Sung by David Armitage Jr.
HE CARRIES US GENTLY, the title song, sets the theme for this album that features the voice of David Armitage, Jr. who, with a  comforting voice sings songs from Dovesongs written by Barri Armitage over the years. The selections assure of God's faithfulness to help cope in these turbulent times, as well as give hope for the future. To review this fourteen-song album, click the button.
Whether praising the goodness of God or suffering the sorrows of grief, in her songs and poetry Barri proclaims:
Songs of Scripture Poetry Set to Music
Poetry Inspired by Love Overcoming Loss
Testimonials for Barri's Music and Poetry