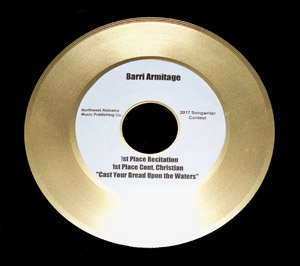 Barri's song, "Cast Your Bread Upon the Waters" won "1st Place Recitation Song" and "1st Place Country Christian Song" in the 2017 NW Alabama Music Publishing Company's songwriting contest.
The Recitation Version is found in her 10 song "Perfected By Your Loving Hands, Spoken Song" album. She reads the lyrics as poetry accompanied by music. (Click here to check out the album)
The Country Christian Music version is found in "Look To God, Not Goliath," a special CD Digital Release. (Check out the album here) 
Barri's songs were entered in this contest for four years and has won something every year. "Look To God, Not Goliath" won "Song of the Year 2016. (You can sample the music track by clicking here)
Kimberley Glover, the contest director wrote: "Barri's songs are doing well on the radio." 
She won "Best Biblical Song Award" for "Father, Forgive Them" in 2015. (Hear a sample) She entered the album, "Singing Scriptures, Vol. 3" in 2014 and ended up winning "Best Biblical Album Award."